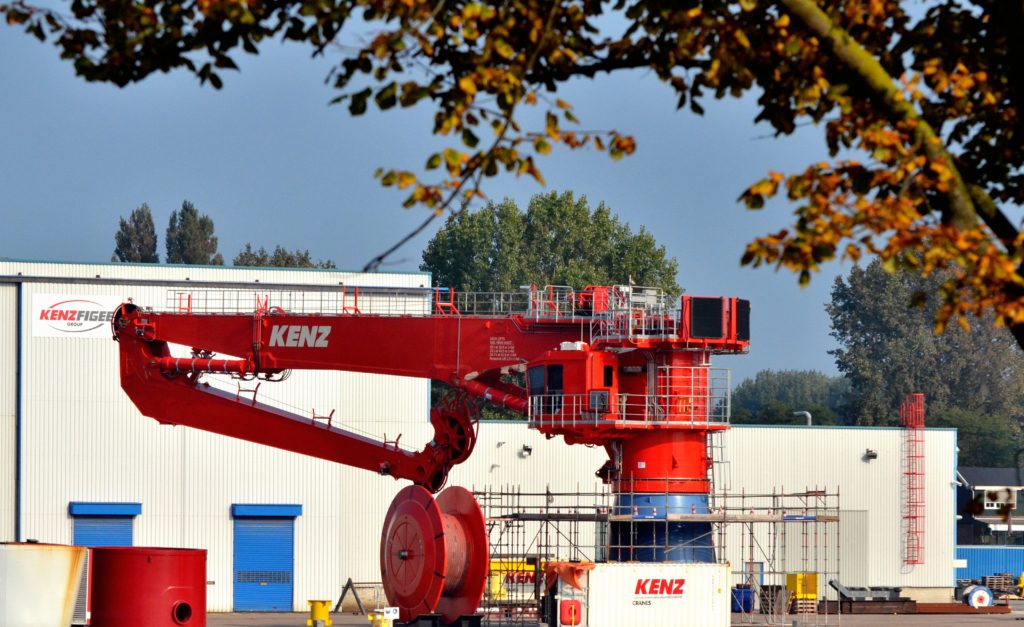 The KenzFigee quayside is located on Zijkanaal G, with a direct link to the North Sea Canal. "It is an ideal location," suggested Klaver. "We are able to fabricate a wide range of cranes in our production hall, as well as carrying out a variety of maintenance and renovation work. Water depth at the quayside is four metres." Nonetheless, Klaver keeps his options open when it concerns the location of the current site. "If we intend to grow substantially, we may have to look for new locations." KenzFigee is enclosed by the Zaandam shipyard Vooruit on one side, and by the non-maritime companies Dimensa and Reconi on two others.
At present, 50% of KenzFigee's business involves the design and fabrication of new cranes. The company is also active in the field of maintenance, renovation and modification work. Traditionally, the offshore oil and gas production industries have been key to KenzFigee's business, but these sectors are currently facing tough times. Not only on the North Sea, but worldwide. "Luckily we have been successful in establishing a foothold in new, high-opportunity niche markets," explained Klaver. "In particular the explosive growth of offshore wind farms on the North Sea. We have also achieved successes in other sectors, too. For example, in the near future, KenzFigee will be supplying two cranes for ammunition handling for the British Royal Navy."
Since Kenz was founded, KenzFigee has delivered a total of around 355 offshore cranes, worldwide. For its part, Figee had delivered more than four thousand cranes worldwide, prior to the takeover by Kenz, in 2005. We are regularly called upon for replacement and maintenance work on all of these cranes. Today, KenzFigee is responsible for supplying and maintaining cranes for the offshore industry, bulk transhipment and for offshore wind energy. For all of these markets, the company fabricates what are known as knuckle-boom canes which thanks to their folding arm have a short action radius. The company has recently developed two new cranes for a variety of applications; the bulk buster for bulk transhipment work in seaports and the up-tower crane, a new maintenance crane for wind turbines.
For the offshore market, KenzFigee also supplies what are known as motion compensated gangways or Walk-to-Work (W2W) systems. The Danish operator A1 Offshore Solutions, for example, recently installed one of these gangways on the offshore supply vessel 'Notus Express'. The gangway is 26 metres long and can still be used in significant wave heights of up to three metres. Uniquely, this gangway has been equipped with a super low docking pressure system, while offering a lifting capacity of 1 tonne. As Klaver explained, "We plan to further expand collaboration with A1 Offshore Solutions over the next few years. We are of course not the only supplier on the market; international competition is fierce. Nonetheless, we believe that we must offer the fullest possible services for our customers."
Would you like to receive a copy of the new Ways to sea? Send an e-mail with your information to amports@amports.nl