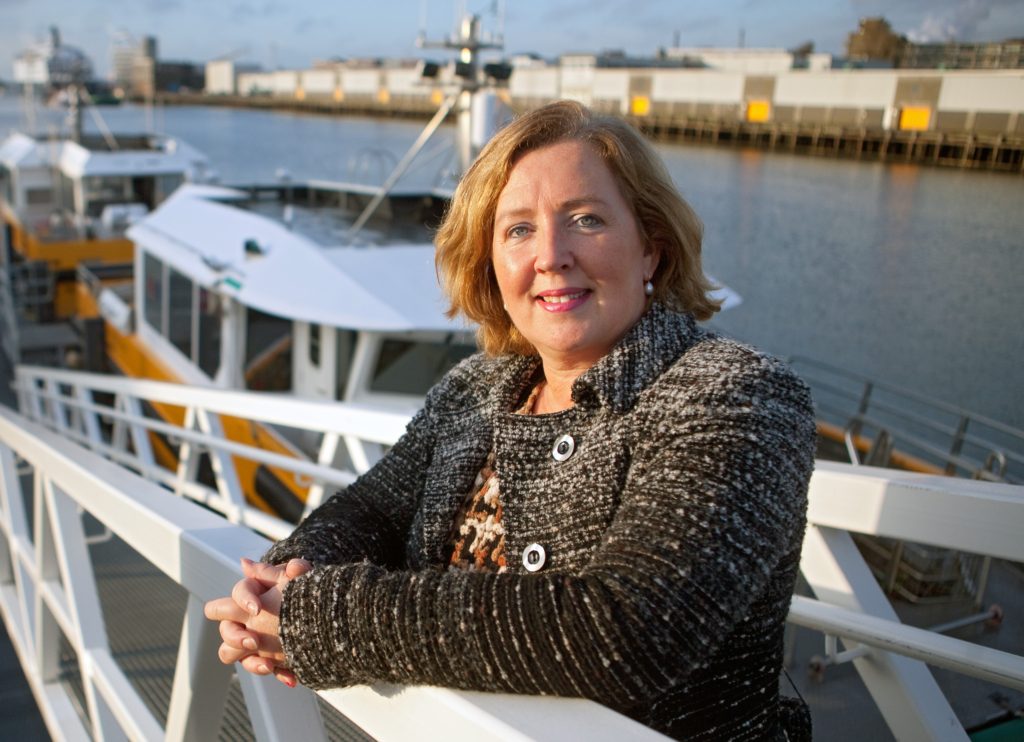 The IJmond region, and the Port of IJmuiden in particular, have a key role in the offshore wind-energy industry. Karin Maat, deputy director of Zeehaven IJmuiden NV, explains the popularity of the port to companies operating in the wind-energy industry
"We're currently being approached by energy companies interested in locating to the port in connection with construction of the Hollandse Kust (Noord) wind farm, around eighteen and a half kilometers from the coast at Bergen aan Zee. And then there's construction of the Hollandse Kust (Zuid) wind farm, which is still to begin." Construction and maintenance of the latter project will largely be carried out from the Port of IJmond. Ten years ago, Maat could never have imagined the importance of wind energy to "IJmuiden". The outer port, completed in 2004, was originally intended for coastal shipping and as a base for companies unable to expand within the existing port. "In practice, things turned out differently," she laughs, sitting in her office in the port operator's headquarters.
Its ideal location is likely responsible for three wind farms – Prinses Amelia, Egmond aan Zee, and Luchterduinen – in the past fifteen years having been constructed out of the Port of IJmond. This has in turn led to companies such as turbine constructor MHI Vestas Offshore Wind and energy producer Eneco Wind establishing permanent bases at the port. Vattenfall is also planning to construct an energy-friendly service center at the port to help manage the huge amount of work involved with the Hollandse Kust (Zuid) wind farm. "The precise location is not yet known," explains Maat. "Discussions are still ongoing. What we do know is that the complex will have an area that extends to some three or four thousand square meters." The building will need to be operational by January 1, 2023 and be able to accommodate 40 workers. The same is also true of the three or four landing points for vessels operated by IJmuiden-based Windcat Workboats, which will be transporting workers to and from the wind farms. The company is currently developing a hydrogen-propelled vessel.
Further reading? Here you can read the entire article in Ways to sea issue 3!
Would you like to receive our magazine Ways to sea? Send an e-mail with your personal information to amports@amports.nl